Convincing Communication
Participants: min. 8 max. 12
Detailed seminar documents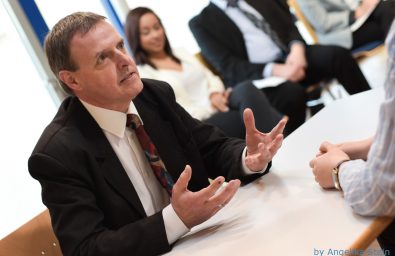 Knowing the needs and desires of their counterparts and skillfully use them for their own reasoning can lead to successful negotiations.
In this seminar, you will learn about conversation techniques that form the basis for trusting and recipient-oriented communication.
Every day we are confronted with convincing others – be it the spouse, the customer or the boss. The outcome of the conversation is not random but depends on your communication skills and the techniques used. In addition, you will learn to actively use non-verbal communication to reinforce messages while communicating them authentically and credibly.
General principles of communication

Business consequences of efficient and inefficient communication
Factors influencing success in communication
Influencing and manipulating the difference
What does communication mean?
How does communication work?

Verbal and non-verbal communication

Causes and reasons for the communication behavior of people

The vocabulary of both languages

Customer-oriented body language

Customer-oriented language

Techniques of conversation control

Effectively influencing the conversation atmosphere
Target trust techniques
Skilfully use questioning techniques
Learn to listen actively
Use conviction techniques safely
Use control techniques
Advantage – Benefit – Apply to reason

Dealing with complaints

Collecting techniques
Call control techniques

Conflict techniques

Conflict – what is the problem?
Chances and risks of conflicts
Customer-oriented conflict and confrontation strategies

Handling different types of conversation

DISC – behavioral typology
Type-related conversation behavior
Practice type-appropriate interviewing
Special
Lecture, doctrinal talk, discussion, group work, individual work,
partner work, role play, conversation and situation training (with video)