Dealing with fear and insecurity
Participants: min. 6, max. 12
Detailed seminar documents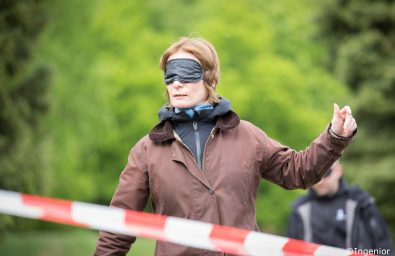 Handle transitions safely and successfully!
Global economic and political changes in dynamics and complexity also have a regional impact on companies and organizations of all kinds. The ability to adapt and change is becoming increasingly important and increasingly a key competence. Change has always caused insecurity and fears. In times of change, there is an increasing inconsistency: the old ceases to exist – the new, however, is not there yet. For many executives and employees, the transition becomes an ordeal.
In this seminar, the participants deal with the following questions, taking account of cognitive-behavioral theories (KVT): How to deal with uncertainty, complexity, and contradictions (ambiguities)? How can one remain emotionally stable and relaxed in the confusion of the rapidly changing world? 
The participants learn …
… that insecurity does not need to be an enemy but also a friend
… how to stay calm even in uncertain situations
… how to overcome the negative mental cinema
… why contradictions let one's own character mature
Basics
Classification, global destabilization
Uncertainty – what it does to us
Contradictions – causes / effects
Myths about safety
Thinking and thinking
Change and transition
Definitions
Meaning, purpose, the benefit of the change
What does change mean to us?
Who does not keep up with the times …
Change in ability/willingness to pay
Change fears and resistance
Thinking traps
Mental patterns – how they arise
Recognize / understand mental blocks

Disaster thinking
Insurance thinking
Absolute demand and must think
Black and white thinking
Dislocation interpretation
Avoid thinking traps
Cognitive behavior
Expose mental scenarios
Rethink constructively
Stage new thinking (paradigm shift)
Solve mental and emotional blockages
Mastering uncertainty
Self-reflection and self-analysis
Environment analysis
Model of prescencing
Coping
Dealing with worries
Development of future confidence
Overcome contradictions
Self-reflection
Dilemmas and paradoxes
Dilemma behavioral options
Understand and use paradoxes
Role model nature
Conflict conflicts
Decision stage
Trainer input, group work, presentation and feedback, individual work, partner work, discussion, individual coaching, experiential education