Holistic project management – intensive
Participants: min. 8, max. 12
Detailed seminar documents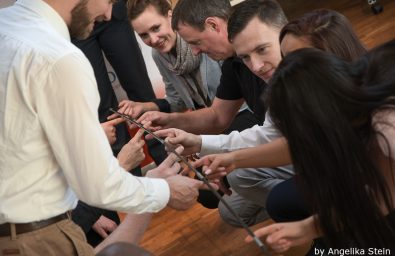 With professional planning and good communication to project a success!
Project management wants to be learned. This confirms, again and again, the experience in everyday project life. Excessive budgets, non-observance of deadlines and milestones, problems in communication, leadership, and team … These and other challenges are in many companies quite normal associations with the term "project". Does it have to be that way? Certainly not. Because professional project planning is learnable!
In this seminar, participants learn how to plan projects in principle successfully. You will get to know the significance of clear project orders and change orders. The participants are suitable to develop project goals for a project and to effectively structure the project process. Communication in the course of the project has a special significance for success. The participants learn to recognize and avoid the problem potential of communication in projects. You will learn how conflicts can be avoided and which communication behavior makes sense and is expedient in the event of conflict.
Basics
What is a project
Definition of terms and demarcation
Well planned is half won
Foundations of planning
Apply for projects
Vote orders "correctly"
Recognize and define the goal
Systematically determine project goals
Successful target communication towards client and team
The project schedule
Project phase models
Sequence strategy, construction planning
Scheduling, mission planning
Budget Planning
Success factor communication
Importance of communication in projects
Special features of communication with the project team, customers and in-house
Safe "recognize", "analyze" and "intervene" during the project
Success factor cooperation
Behavior/communication in case of conflict
Dealing with (change) resistances
Cost, deadline, and quality
Customer orientation and communication in the project, especially in the case of change requests
Teaching lecture, role play, doctrinal talk, discussion, group work, individual work, partner work.
Upon request: consolidation through coaching letter