Innovation – reinvent yourself
Participants: min. 8, max. 12
Detailed seminar documents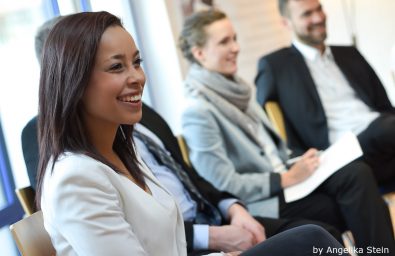 Innovation = reinventing yourself
You and your team are belligerent, eloquent and live true to the motto: "does not work, does not exist!"? Congratulations, you have just qualified as an Innovation Manager! Are you shaking your head right now? Then you should urgently adjust a few screws in order to promote this competence!
At first, innovation management is not just about developing new ideas, but rather about reinventing ourselves. Developing something new also means letting go of something old. This means thinking blocks in the first step, followed by the willingness to get involved in something new. Now for the supreme discipline: How do you get employees, executives, and customers, to think and act innovatively?
Just talk about the bush, because storytelling is the key to innovation! The relevance and central message of the innovation are entertainingly packed and address the heart and mind of the audience, attract attention and promote "thinking-out-of-the-box". This visualization makes your innovation capability unique, lets you experience to support and stand out from the crowd.
Pre-competencies for innovation
Characteristic of a successful innovation
Understand cognitive patterns
Mental preparation for innovation processes
Recognize and dissolve innovation blocks
Storytelling methods
Lecture, doctrinal conversation, discussion, group work, individual work, exercise
Upon request: consolidation through coaching letter