Leadership and Systematic Problem Analysis
Participants: min. 8 max. 10
Detailed seminar documents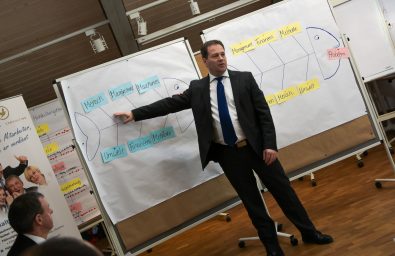 Analyzing and systematically solving problem situations is a critical success factor - not just in project work.
Every manager has to make decisions every day. Often the tools of decision-making are lacking to make decisions factually and not "gut-feeling". Only if neutral instruments have been used in the decision-making process can the decision be made comprehensible to outsiders, and thus less vulnerable.
In this seminar, participants learn about tools and procedures that help them systematically identify and solve problems. The seminar is aimed at executives who want to extend their personal decision-making competence effectively and sustainably.
Basics

Overview of techniques of problem analysis and solutions
Fields of application and application requirements

Target elaboration technology

Introduction to the structured targeting process

Techniques and appreciation

Systematic problem analysis
Benchmarking
Connected thinking

Techniques of solution design

Connected thinking
Method 635
Morphological analysis
Mind mapping

Techniques of evaluation

Economic calculations
Verbal rating
Cost-benefit analysis
Cost-benefit analysis

Prioritization techniques

ABC analysis
Portfolio analysis

Consistent case study
Lecture, doctrinal conversation, discussion, group work, individual work, partner work, exercises